Queen Mary's Lane
Circular Walk
The route is dotted with four interpretation boards. To view one, click on a board on the map
(downloads large files each 4MB - 8MB)
We have opened a stretch of the ancient way called Queen Mary's Lane for permissive public access as a bridleway.

We have also built it into a 2.5 mile / 4km circular walk for visitors to the Woodland Trust site at Pound Farm, Great Glemham, where there is a convenient car-park.

Queen Mary Tudor
The lane was named after the momentous events in 1553 when Mary Tudor was proclaimed Queen of England while marshalling her troops at nearby Framlingham Castle. It is assumed she led her army down this route to London to claim the throne from Lady Jane Grey—the 'Nine-Day Queen'. There Mary became the first woman to be crowned Queen of England in her own right.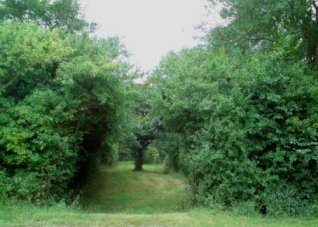 Today, the one remaining section of the original lane sweeps through the edge of Queen Mary's Wood, between widely spaced ditched banks on either side. As you drop down into the calm of this sunken green lane you can imagine the awe of the peasants working the surrounding fields as an army of thousands marched through here, headed by their new Queen on her white horse.

This website pieces together the history of this ancient pre-medieval lane displaying all the old maps and texts through the ages.





Queen Mary's Wood & Queen Mary's Plantation
Queen Mary's march was not the only event in the lane's long history; it has other stories to tell. To find out more about any of the stories below, follow the links at the top-left of the page:
The story of Queen Mary's Wood, which was planted with oaks in 1788 according to an ancient linen map, which you can see online.

The story of the flowers that came into bloom in 1984 when the ancient practice of coppicing was restarted in Queen Mary's Wood, opening up the soil to sunlight again.

The beautiful story of how the Victorian children of the parish all planted acorns that grew into the tall oaks of Queen Mary's Plantation.

The reopening of this stretch of Queen Mary's Lane is in memory of my father, Paul Briscoe, who instituted the clearing of the only visible remains of the lane through Queen Mary's Wood in the 1990s.
The lane is one part of a much larger set of environmental improvements we have been undertaking since 2011.
Queen Mary's Lane lies along the parish boundary between Parham and Great Glemham, near Framlingham in Suffolk, England.

Click to enlarge this map
overlaid on the Ordnance Survey,
which shows the other bridleways, tracks and minor roads that the new permissive paths connects up, just as the original Queen Mary's Lane did in its day.


Please follow the Countryside Code:
Always stay on footpaths and bridleways
Keep dogs under close control
Protect plants/animals
Take your litter home
The route passes through a working farm.
This circular walk is provided by JC Larter & Co
in co-operation with the Woodland Trust.
Capital works were part-funded by Natural England.
Illustrations: www.wearedrab.net
Interpretation board editorial: www.xtrahead.co.uk
© JC Larter & Co, 2014